The lockdown restrictions are beginning to ease. Summer is on its way. Many of us are starting to think about holidays, and things to do during the summer break. It seems unlikely that we'll be able to go abroad this year, so we've been thinking about family activities for a fun staycation weekend.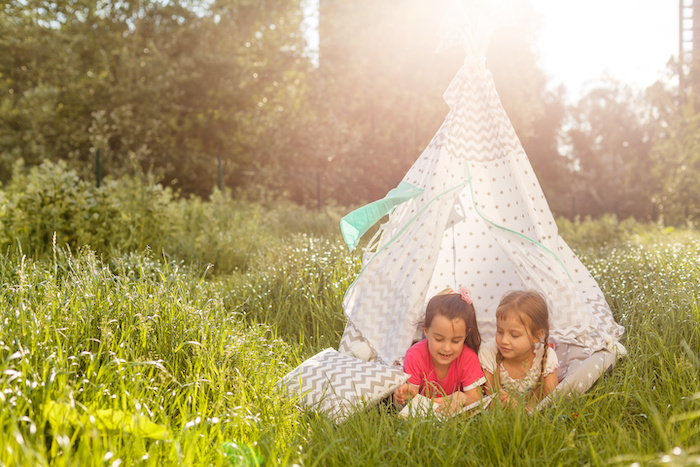 Stay at home
Staying at home can be a vacation if you make the most of it. Pitch a tent in the garden and sleep outside! Barbecue burgers, hot dogs and marshmallows. Organise a family board game tournament and play by camp light. Add those touches of luxury that you can't get when camping away from home, like bringing your comfiest bedding into the tent or stringing up fairy lights.
Set up a reading corner in the garden and encourage your children to find an adventure inside the pages. If you're looking for something new for the little ones to read, libraries are offering an e-book lending service for the time being. If you don't already have a library card, you can apply for one online. You might not have a physical card until after more restrictions have been lifted, but you'll be given a card number so you can start making use of your membership online right away.
Water games at home are a fun way to enjoy being outdoors, and the sun. Water fights, water balloons, super soakers, all of these are brilliant ways to start a water war. You could also try setting up a water slide, using some lengths of plastic, a hose, and some washing up liquid. You can't beat classic garden fun in the Spring and Summer!
Day Trips
Ireland has some amazing places to visit for a day trip. Some restrictions have begun to lift as of April 26th, which means that places like Dublin Zoo, Wild Ireland, Belfast Zoo, and Sea Life will be opening again. You will need to book beforehand, and there will be different rules in place with social distancing.
There's also some amazing scenery in Ireland. You could go to the Giant's Causeway, in Antrim. This can be a wonderful walk, with hugely impressive scenery. There's also other things to do and see nearby. You could try to walk the Carrick-a-rede rope bridge, if you're an adventurous family. You can visit the Dark Hedges. These are great options for a more socially distanced trip outside of the home.
Connemara in Galway is another place with impressive natural beauty. Ballynahinch is beautiful woodland, and lakes. Connemara National Park has peaks and mountains. There are also castles, and manor houses which may be open to the public, depending on when you go. Most tours will require booking in advance.
Booking somewhere to stay
If you feel like you really want to get away, you could look into making bookings for later in the year when hotels and B&Bs reopen – though we think there's plenty of fun to be had at home! But, if you do book somewhere to stay, make sure that the dates can be changed, if the restrictions aren't lifted in time for your stay. If the dates can't be changed, then make sure that your payment is completely refundable.