Summer is just around the corner, and it's time to get outside in the garden. While we parents would probably love nothing more than to lie back and relax, children love to be busy. These ideas for DIY outdoor toys and games will help keep your little ones entertained, and they can even help to make these games.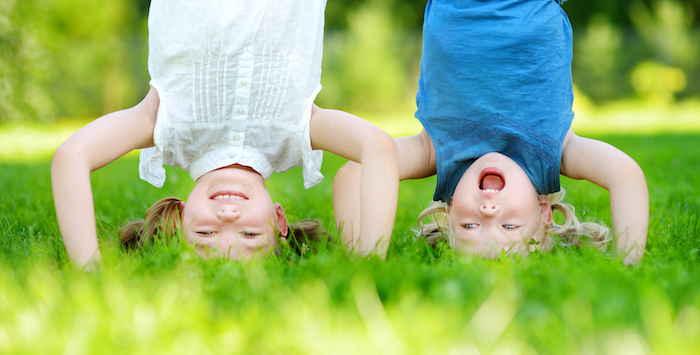 Bowling lane
This bowling lane can be made for little hands or scaled up for larger hands. You will need to do the woodwork, but your child can help paint the lane, and the pins. If you have any scrap lumber, use it on this project, even if it doesn't match. You can always paint the whole lane to make it all one colour.
Mud kitchen
Children love to get dirty, so a mud kitchen is a great outdoor toy. It encourages role play and can be used for sensory play as well. You can use any wood and lumber you have lying around, or even cardboard if you store it inside, and really tailor your design to suit your children. Use metal bowls, and old household items to fit it out. Then your little ones can make all the mud cakes you can pretend to eat!
Bean bag toss
This bean bag toss is incredibly simple to make. You just need five large plastic bowls and bean bags. You can buy the bean bags or sew them yourself using scrap fabric. Print out large signs that shows the points that each bowl is worth. Attach the sign to the side of the bowl. You might also want to print out score cards, so that everyone can keep track of their scores. This game can be great for encouraging their maths skills, so assign the points based on the age and ability of your children. For example, you might want to show the points in fractions, or decimals for older children, and simpler numbers for younger ones.
Tic tac toe
DIY tic tac toe is great for toddlers and younger children. They can help collect stones to make the game pieces. Look for quite flat stones, and make sure that they're big enough for your child's hands. Find ten similarly shaped stones. You can buy flat stones from any shop that sells home decor if you want.
Once you have your stones, decide on your designs and paint them. Make sure they're completely dry before you begin playing. You can mark out a game board using chalk, or gather twigs, and line them out in the shape of the board.
Lawn match
This lawn matching game is fantastic for all the family. You just need cork tiles, and you can create any images you want for matching! You can buy cork tiles online. You can spray the designs onto cardstock, and then glue the card to the tile. Why not try using stencils, and stencil on designs that your children will like – animals, space, foods etc? You could also print out photos of your family members and use them as your matches. You could print two images of the same person, so match Granny with Granny, or you could ask your child to find everyone that lives with Granny.