After a long winter stuck inside, Spring brings with it the opportunity for fresh air and exercise! While it's still a little chilly, your little ones might need a bit of extra encouragement to get out of the house – so here are some ideas for fun games and garden activities you can play at home to get your little ones active outside!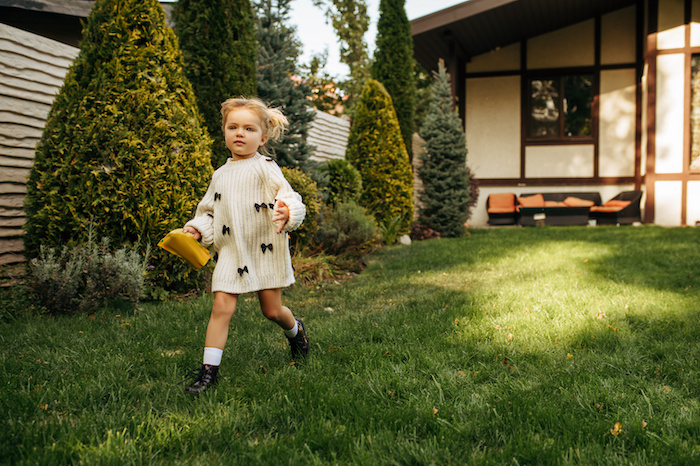 Make a fairy garden
A super creative activity for the garden is to make fairy houses! Go outside and collect up whatever pretty, decorative things your little one can find – sticks, stones, moss, bark. Use these, along with whatever crafting materials you have at home and some recycled materials such as cardboard boxes and plastic bottles to make magical houses and miniature gardens to hide around your own garden. Your little one will have so much fun imagining what creatures will inhabit their creations!
Teddy bear picnic
By this point, your children might be missing playdates in the park with their friends – and whilst we can look forward to those once again when it's safe – why not put on a really special teddy bear picnic for your children and their toys? Cook or buy their favourite foods, dress to the nines, plan a few other activities and head into the garden for a party! Make an effort to help this party seem like a special treat, even if you're just at home.
Obstacle course
Putting out an obstacle course in your garden is a great way for little ones to burn off energy! You don't need lots of fancy equipment, just make a circuit out of whatever you already have at home. A slide can double as a tunnel, a laundry basket and ball make a throwing game, pool noodles could be hurdles – just have fun creating a challenge!
Nature art
Temporary art made from nature is a beautiful idea – so why not try it out with your little one? Have them collect up whatever materials they can find and make pictures on the ground! If you get the hang of it, you could even try making 3D sculptures from sticks and stones. Once you're done, snap a pic and then let nature take its course! It's a completely free and zero waste way of having lots of fun.
Give them their own planter
If you've got the space and the time to help, why not give your little one their own space to grow in the garden? If you've not got a lot of space, this could just be a strawberry planter or window box. Let them choose what they want to grow and help them to nurture their plants. It's a wonderful way of teaching them about nature, as well as an incentive to get outside often to tend to and check on their garden