That moment when you get to announce you're expecting a little one to your friends and family is so special! Even if you're unable to tell your loved ones in person at the moment, we've got some really creative and fun pregnancy reveal ideas that you can use to announce and remember this special moment.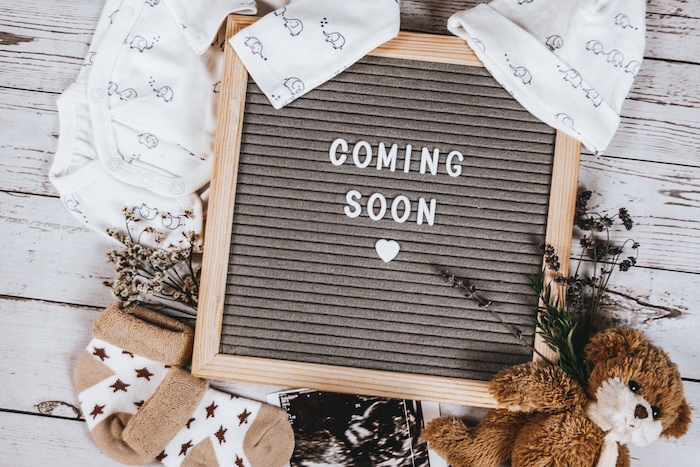 Flatlay
A very classic 'instagrammable' pregnancy reveal idea is to create a flatlay. Lay out a few of the sweetest items you've collected for your little one onto a flat background, along with your scan photo and some sort of notice board announcing your little one. You could try a letterboard, a chalkboard, or just show off your fanciest writing on some card.
Washing Line
This is a really cute idea, sure to be memorable for your loved ones! Collect up your scan photo, a baby sleepsuit and whatever other sentimental items you like, such as the first cuddly toy or outfit you have chosen for your baby. Peg these all to a washing line and snap away!
Get your other kids involved
If you've already got older children, getting them involved in the pregnancy reveal can be very sweet, and a great way to get them excited about the pregnancy if they're feeling a little unsure. Why not focus the reveal on their new role as a big sibling? You could dress them in an outfit holding a matching baby outfit or have them holding a sign with an announcement on, so they can be the one to give the big news!
Seasonal theme
Depending on what season you're announcing your pregnancy, you could tie your announcement in with an event or celebration. This time of year is wonderful, with romantic hearts everywhere for Valentine's Day – why not take advantage of the cute decorations and romance of the day? Or you could announce with a spring theme, featuring hatching eggs to represent your little one? Perhaps theme it around your 'lucky charm' for St Patrick's Day? Pretend to prank your family on April Fool's day… except this one is not a joke!
Say it with a gift
If you want to reveal your pregnancy to someone specific, why not gift them something to give the game away? This is a lovely way to let someone know you're expecting, especially if you're unable to see them to tell them in person right now. Why not send a personalised mug with your due date? Or our personalised My Little Sudocrem tubs would make the perfect announcement gift for a soon-to-be grandparent when personalised with 'Granny's Little Sudocrem' – you can get your own here: https://personalised-sudocrem.com/