Children love treats – and summer often brings little ones calling for ice cream and lollipops. As parents, though, sometimes we want to keep treats as healthy as possible. These healthier summer treat recipes are perfect to give your little one a snack, while providing an alternative to the unhealthier options best eaten in moderation.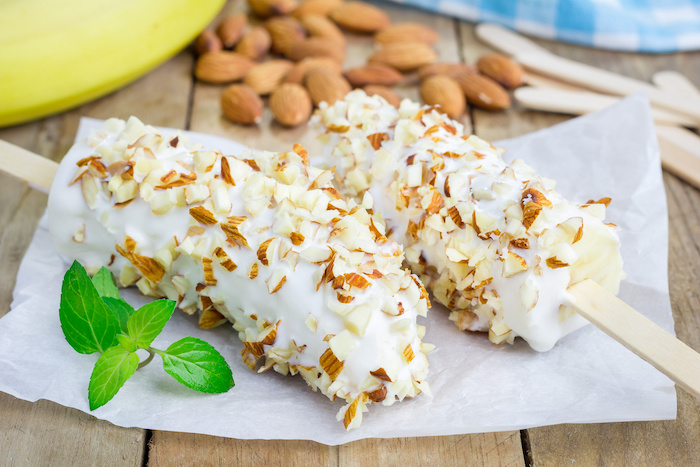 Homemade ice pops
These homemade ice pops are delicious and your little one can help to make them. You'll need some ice pop pouches, a blender, and whatever juices, fruits and vegetables you fancy! Blend your chosen ingredients until they're smooth and then fill the pouches. Put them in the freezer until frozen.
Strawberry ladybirds
These strawberry ladybirds are cute, fun and can help little ones eat more fruit. You'll need strawberries, blueberries, and good quality chocolate. Melt the chocolate and fill a piping bag with it. Cut the strawberries in half and use the chocolate to secure a blueberry to a strawberry half. This is the head of your ladybirds. Use more of the chocolate to decorate the rest of the strawberry in a ladybird design. When the chocolate has set, you can move the ladybirds to a serving plate, and then pipe on antennas, and legs.
Ice cream bars
These ice cream bars are another hidden fruit recipe, but they can also help your little ones cool off. All you need to do is blend a few bananas until they have a smooth, creamy consistency. Spread the mixture between two wafers or crackers and then leave them in the freezer for about half an hour. You can add sprinkles or a fruit syrup before serving!
Apple bites
These apple bites are healthy, but also a little bit sweet, so your little ones are sure to love this summer treat. You need apples, cored and cut into wedges. Next, spread peanut butter or honey on the wedge and sprinkle with your favourite granola mix. You can sprinkle on some cinnamon powder and drizzle with melted chocolate to taste.
Frozen banana pops
These frozen banana treats are a wonderful replacement for traditional, sugar filled ice pops.  You'll need bananas, spreads, toppings, and ice pop sticks. For the spreads you can use Nutella, Biscoff spread, white chocolate spread, honey, melted chocolate, peanut butter, or cream cheese. For the toppings, you could have sprinkles, granola, oats, coconut, chopped nuts, chopped dried fruit, cookie crumbs, crushed biscuits, or chocolate chips. Whichever spreads and toppings you use, make sure that they're suitable for the age of your little ones, and that they have no allergies.
Peel and cut the ends off the bananas. Depending on the size of the bananas, you should cut them into halves or thirds. Put an ice pop stick into the middle of the banana. Cover the banana with the spread, and then the toppings. Your children will be able to help. Once the bananas are sufficiently covered, put them on a baking sheet covered with parchment paper. Put the sheet in the freezer for around two hours, or until frozen. They can be stored in a freezer bag for up to a week.